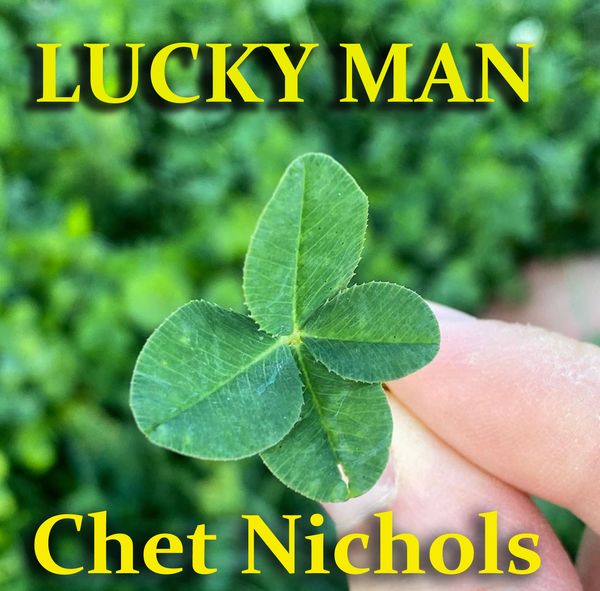 I'm A Lucky Man (Solo Acoustic)
Chet Nichols
"I'm A Lucky Man"
**************************************************
Music and Lyric by Chet Nichols (ASCAP)
Copyright 2002/2019/2023 by Chester Nichols, Jr (ASCAP) & Magic Garage Music: Publisher (ASCAP) 
URL: http://www.chetnichols.net
Email: chet@chetnichols.net
Email: MagicGarageMusic@protonmail.com
Email: ChetNichols@me.com
ALL RIGHTS RESERVED
VERSE 1.
Well, I never win the lottery
Or what magazine publishers give away free
I never win anything at the races
And when I play cards I don't draw the aces
But I knew my good luck had just begun
On the honky tonk Saturday night
When I met that special someone
CHORUS
Ooo, Ooo I'm lucky man
She's got a truck that runs
She's got me making plans
God knows, Ooo, I'm a lucky man
She's got the kinda love that plows
Right through my heartland
Thank, God, I'm a lucky man
VERSE 2.
My bread always falls on the buttered side
And four leaf clovers seem to run and hide
I've never had the luck to hit a hole-in-one
Or crack a game winning home run
But I knew my life was about to change
Since I've known that cowgirl
Lord, my life's never been the same
REPEAT CHORUS
BRIDGE:
I'm not lucky with stars
But I'm lucky in love
I meet an angel
Who's got buckets'n barrels of bubblin' love
REPEAT CHORUS
::::::::::::::::::::::::::::::::::::::::::::::::::::::::
Copyright 2002/2019/2023 by Chester Nichols, Jr (ASCAP) & Magic Garage Music: Publisher (ASCAP) 
All US and Global Rights are reserved. This song or any portion thereof (lyrics, music, samples, vocals) may not be reproduced in any form or media, distributed, transmitted, downloaded, shared or used in any manner whatsoever without the express written permission of the writer and the publisher. 
For permission requests, write to the publisher at: 
MagicGarageMusic@protonmail.com
Or addressed to: 
"Attention: Permissions Coordinator, (at the address below) 
Chet Nichols/Magic Garage Music, PO Box 2398, Northbrook, IL 60065" 
http://www.chetnichols.net.
More information at: 
http://chetnichols.bandcamp.com
Email: MagicGarageMusic@protonmail.com