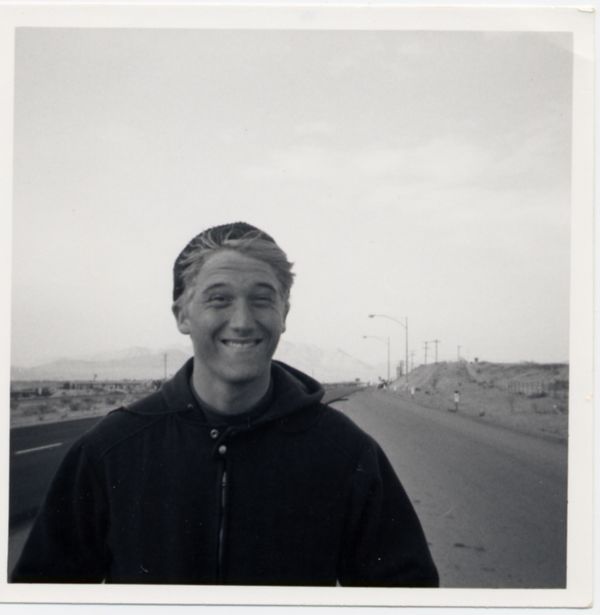 NOVELS & BOOKS INFO
All of Chet's novels and books are available at Amazon. You can purchase and/or read versions as paperback books or a Kindle-type files.
CLICK on this link to get to Chet's novels and books.
Also, many of Chet's music albums are available at Amazon. You get a nice bonus if you buy a CD at Amazon, as we will also include FREE MP3 files that you can download. CLICK HERE to views Chet's albums at Amazon.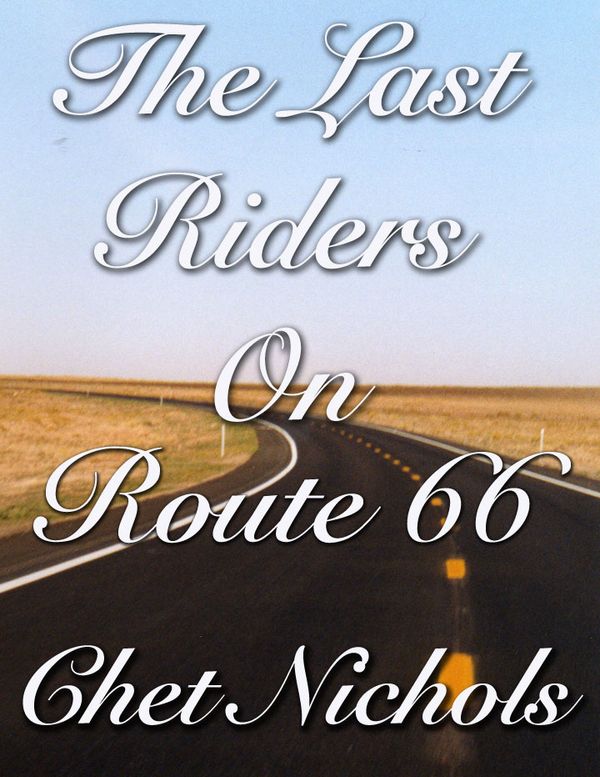 Here is the link to Chet's novels and books. 

"Route 66. A Source of Inspiration"
by Chet Nichols
 
Inspiration, where does it come from? People can find it everywhere. You see it when the cat is sleeping on its back dreaming it's a flying squirrel ("Honey, quick where's the digital camera?"). It is there in the spring flowers, the first snow of the season, the smile of a baby, the rainbows that trail behind a desert storm or a multi-colored sunset reflected upon an armada of billowing clouds over the ocean. There are so many wonders in this world, large and small, that make us grab a camera to take a photo, reach for a pen and paper to jot down a line or idea or make us stop in our tracks and view what is before us with awe.
As a novelist, songwriter, poet, actor, film producer and photographer, I find inspiration everywhere. I had great teachers who taught me to keep the doors open to my muses and to be insatiably curious about the world I live in and the people that I meet. They also taught me to have a camera on-hand and never be caught without a pen and something to writing on. Sometimes it is my hand.

My sources of inspiration vary, but when I review some of my most important creative pieces, the source of inspiration has been Route 66.
It has inspired 3 novels and thousands of songs. I have a large library of Route 66 photos that date back to the 60's when I was a teenager just beginning to explore The Mother Road.

My last novel, The Last Riders On Route 66, is a story about two college students who decide to take a hitchhiking trip from Oklahoma City to Los Angeles. The story takes place during their two week Spring Break back in late March of 1967. They learned that Route 66 was officially about to begin its breakup up into various segments and subsequent assimilation into the interstate highway system in the fall of that year. So, they decide to see Route 66 before it is covered over by the pending Super Slab. In essence, it is the story of two "Happy Days" era young men colliding with the "Hippie Days".

This is a story about places, people, and lifestyles that in many cases don't exist any longer. Or do they? Places where I used to stay along the way have been torn down or abandoned over the years. Many have been preserved and restored. Some are in Limbo.

For instance, in the book, the block that housed the book's hotel and club in California has been recently torn down and a new, multi-use structure now stands over-looking the ocean. In this way, this story is about change and growth, death and re-birth, how things used to be and how experiences stay with us over the years. The book tells a story about how events, ideas and people combine, to change the lives of the people who share this highway.

The storyteller in my novel is a young musician and songwriter who hauls his guitar along with him on the trip and he finds himself being inspired by many people, places and situations that he encounters along Route 66. With the story taking place at the time when America is caught up in the Vietnam War, the rise of the civil rights movement, the explosion of the arts and music, the sexual revolution, the psychedelic era, the burgeoning space program, and the social and spiritual upheaval that personified the 1967, there is a lot for these two travelers to react to and a lot of situations that have a lasting effect on them.

The basic framework of the book was inspired by a similar trip that an old high school friend, Peter Reiter, and I took down Route 66 during our Spring Break in 1967. It was quite an adventure. Our trip was tame compared to the story depicted in this novel, BUT it did provide a framework to build a story and fill it with interesting people, places and events. The story allowed me to create a canvas to depict many years of experiences and people I met on Route 66 during my years as a touring singer/songwriter and recording artist. Still, there are some interesting characters that we did meet that are included in the story. So, there is some history and authenticity to the book. In 2002, I wrote a song that was inspired by my novel, it too was entitled, "The Last Riders On Route 66". Below I will include the lyrics to this song as a quick snapshot of the book.
This is a story of a world that is no where near what we are experiencing in the 21st century. We had no cell phones, no Internet, so social media, no selfies, no "political correctness"... you get it ... nada ... so things and PEOPLE were very different because we communicated differently. I miss those times more than I can say today. The world has changed drastically. But, if you want to get a glimpse of how life was back in the 1960's...buy the book and read it.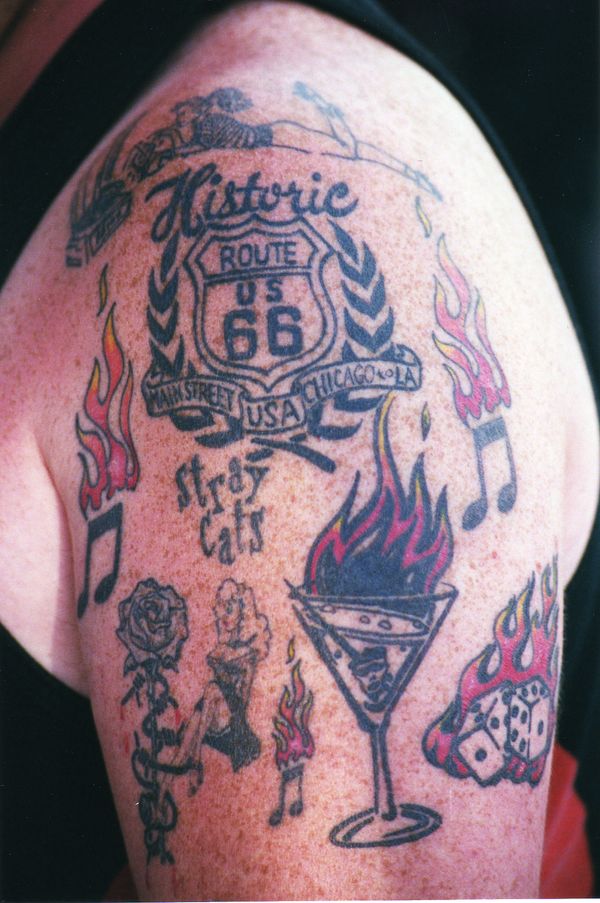 In writing the story, I found myself combining my personal experiences and the experiences of several of my close friends who used Route 66 to get to California back in the 60's and 70's. These are friends who where also struggling young writers, filmmakers, artists, and musicians. To all of us who used the road during those years, our impressions and experiences left an indelible mark on our lives to this day. I think that most people who have driven Route 66 come away with memories that have changed their lives and produce vivid images that have become lasting sources of inspiration.

During those years, I traveled between Illinois and Oklahoma and Kansas to Los Angeles many times. Most of the time, I used Route 66. Sometimes I hitchhiked and sometimes I drove or caught a ride with a friend. Even flying over it made me ponder this gentle trail that had become a beaten path. As I try to depict in this novel, I learned a lot from The Mother Road. It was a classroom that taught my friends and I, the truths of the life. And, as we began to formulate and fulfill our dreams, Route 66 was always quietly waiting to offer us inspiration and a destination.

What really drove me on to write the book was a heartfelt responsibility to finish and "write a universal story" that was "true to the times".
As I began writing, I told people I was working on a book about a road trip on Route 66 and how it changed the lives of the characters in the story. Every ride they got was like changing a TV channel. Almost everyone I mentioned it to suddenly got "that look" (as I called it) and started to tell me the story of a how their road trips had changed their lives, too. The universal response was, "I want to read it when you are done." Just the mention of Route 66 brought back memories.

In fact, I had friends invite me out to lunch to talk about their personal wanderlust and their travels. I had friends who came back from Viet Nam telling me tales of wandering aimlessly up and down Route 66, until, like Forest Gump, they said, "I'm tired. I'm going to find a home." As if the roads they traveled held the key to the release of all their personal demons.

I met a lot of interesting people during my wanderings. The characters in The Last Riders On Route 66 are mostly combinations of people I met at one time or another during those years. These are characters who were created as symbols of the times. There are also characters created from the stories of my friends and things they experienced. In this way, this is a story inspired by many people.

I knew I had found a universal chord that chimed in all of us. I knew I had to write the book. I knew I had to finish it for everyone I knew AND for the characters in the story who were quietly taking on a life. I had to let them speak and tell their tales. I was only the typist.

Ask any writer and they will tell you the same thing; writing comes from watching people and reporting what you see, hear, taste, smell, touch and, the ever-elusive, what you "feel". The key is telling a story that is inspired by what is in your heart. I think this is true of any medium of storytelling.

Now, I am not the only person to be inspired by Route 66. The highway bookshelves are lined with a vast array of articles, newsletters, magazines, newspapers, novels, information books, historical books, photography books, tapes, CDs, DVDs and travel guides. Moreover, there are numerous filmmakers who have been inspired to produce documentaries, TV shows and feature films that are set on The Mother Road. Troubadours fill the clubs along Route 66 and sing songs about her life. They depict the past, present and the future of the people who travel Route 66, as they are wander, hustle to a destination, run from a situation, tour, investigate or just plain enjoy the scenery. I think we will all agree that it is impossible to drive along the path that was defined by Route 66 and not be intrigued by its history.
Since 1998, I have seen incredible growth in the number of people who have been inspired to contribute their talents to tell the stories of Route 66, preserve her history, restore her past and plot her future. What has really made me smile is the unique ways people have found to contribute their unique talents to preserve The Mother Road's treasures. We live in a physical world, so the projects that these people have undertaken have taken "time". In some cases, a lot of time. But, with The Road fueling their inspiration to contribute, little by little, wondrous things are happening.

State and national preservation groups have emerged which have been inspired and dedicated to preserving the history of The Old Road. These groups recruit organizers, carpenters, painters, electricians, designers and artists, to save hotels, motels, diners, bridges, gas stations and similar structures for present and future travelers. People roll up their sleeves and do what needs to be done, even if it means making lunch for the workers.

State, national and local events have appeared that have been inspired by and dedicated to the history of Route 66. I've had the good fortune to be part of many of these awesome events and I have been truly impressed by the fervor and dedication people have shown in organizing these tributes.
I've also been very lucky to befriend and get to know people like Jim Conkle, Michael Taylor, Bob Moore, The Knudsons, Paul and Sandi Taylor, Michael Wallis, Jim Ross, Ken Turmel, Tom Teague, Shelley Graham, Lulu, John & Lenore Weiss, Helen Baker, my friends at the Illinois Route 66 Association and other state associations. And the list goes on and on….you know who you are.

My next novel, The Poet Of The Mother Road, tells a tale of a father and son's rediscovery of their relationship out in the Great Southwest. The characters are souls who use their bodies and the road to discover who they are and where they may be headed next. It is a story of illusion, wonder, discovery, decision and transformation.
        
My fellow Route 66 artists, authors and roadies inspired me to write and produce the songs on my CD, "Modern Progress". This CD is dedicated to Route 66 and the people and experiences I have had out on Will Roger's Highway.
        
All of these works have been inspired by the hum of my tires and the wind I have felt on my face while driving The Southern Route.
The great thing is that I am not alone. Many of you have similar tales to tell.
           
Route 66 mirrors the physical world around us because it changes from moment to moment. The struggles and obstacles that humanity face and endure are mirrored by the struggles lovers of Route 66 endure to try to preserve the past, enjoy the present and ponder the future of The Road. The Mother Road is something to be loved, studied, valued, shared and nurtured. Her history is presented center stage and shows us the history of growth of this great country.
Truly, Route 66 has inspired and will continue to tell people its story for years to come. I am very blessed that, in my own way, I can contribute to her story. Long after I am gone, The Mother Road will still live on.
        
Now, we have a new entity that is joining The Route 66 Family. It's The Route 66 Pulse newspaper. A new voice inspired by and dedicated to the past, present and future of our Dear Highway. I want to welcome The Route 66 Pulse into the family of other voices that are singing the tales of The Mother Road. The choir just got bigger folks and that is a good thing. Best of luck!

Finally, I want to leave you all with the lyrics to one of the songs from my CD, "Modern Progress".   The song is entitled, "The Mother Road". The pictures and story told in these lyrics will take you out to the quiet, wind-swept stretches of Route 66 that patiently await your presence. Take a minute and read them.
Here is the link to Chet's novels and books.
To contact us, please email MagicGarageMusic@gmail.com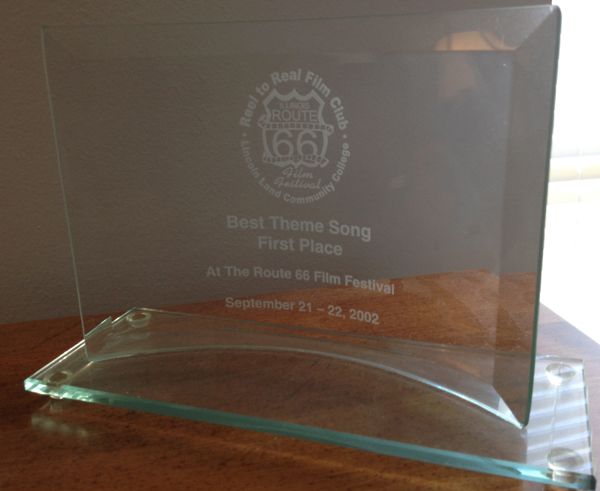 The Song - "The Last Riders On Route 66"
The Song - "The Mother Road"
Book Reviews - "The Last Riders On Route 66"