Chet Nichols' Music Library Catalog
Welcome to Chet Nichols' Music Library Catalog Page
From this page, you can listen to individual songs, complete albums and buy them here.  ALL FILES are 44:16 WAV Files, so, you will get very high-quality files for your personal music file library. All songs are posted as full-length songs, so you can listen to a complete song or album(s). Also, you can CLICK on the image on the right side and it will take you directly to THAT ALBUM'S individual page that will have a lot of info about the album, reviews, pictures and more.
Please know that you are directly supporting Chet's writing by purchasing a complete album or individual music files. So, enjoy the music!
All purchases whether with a credit card or a PayPal account are handled safely & securely by PayPal's encryption services.
Special Guitar Tunings
Over more than 50 years of writing songs, Chet has amassed a very valuable collection of guitar tunings that he has created for use with his songs. He is guessing he has over 100 tunings used for his songs. Many of them are also used when he plays slide and bottle-neck guitar. He has agreed to post them to the site and we are waiting to get the first batch of them and will share them as they come in. He has also collected many other tunings he has learned from other artists that he is going to share, too. CLICK HERE to be taken to the "Guitar Tunings" page. Chet is adding new tunings on a regular basis when time allows.
Desert Sunrise
Chet Nichols
Instrumental: Jazz-Pop-New Age-Acoustic
Read more…
0:00/4:33

0:00/3:53

0:00/4:56
Single: My Town At Christmas
Happy to share the news that ... Chet's song, "My Town At Christmas", just slid into the "#1 Christmas song slot". Oh, what fun...to be #1!
Give the song a listen as you follow along wth the lyrics.
Also, if you buy a music file copy for your music collection and help support Chet's musical endeavors, you can pick out a second song and we will send it to you as a FREE GIFT.  So, climb aboard the sleigh and have a slice of Fruit Cake or some Jelly Roll with all the cast of characters in this song.
My Town At Christmas
Chet Nichols
Chet's fun and upbeat, rock 'n' roll "classic" is now available, again, with all-new production. It will have you dancing the "Conga" round the Christmas Tree!
Read more…
CD: Twilight Journals (2018)
Twilight Journals
Chet Nichols
A collection of Original, Singer-Songwriter, Alt. Pop, Jazz, Folk-Rock and Blues.
All lyrics & music by Chet Nichols. Instrumentation, arrangements, vocals, production, mixing and recording by Chet Nichols
Copyrights by Chet Nichols (ASCAP) & Magic Garage Music (ASCAP). ALL RIGHTS RESERVED
Read more…
0:00/4:57

0:00/3:36

0:00/7:20

0:00/5:47

0:00/4:51

0:00/4:36

0:00/4:10

0:00/5:37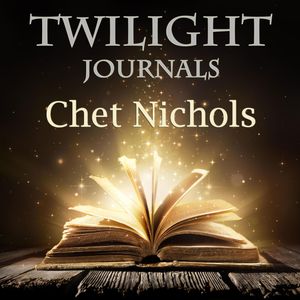 CD: The Last Riders On Route 66 (2018)
The Last Riders On Route 66
Chet Nichols
A collection of Original, Singer-Songwriter, Rock, Country, Folk-Rock and Blues.
All lyrics & music by Chet Nichols. Instrumentation, arrangements, vocals, production, mixing and recording by Chet Nichols
Copyrights by Chet Nichols (ASCAP) & Magic Garage Music (ASCAP). ALL RIGHTS RESERVED
Read more…
CD: The Apocalypse (2016)
CD: Beetles Are Coming (2015)
CD: Music From Trees (2016)
CD: Earth River (due 2018)
CD: I Was Dreaming (2015)
CD: The Band In The Basement (2014)
CD: Walking in Circles (2014)
CD: Sunday Morning (2012)
CD: Prairie Harvest (2009)
CD: Paradise Unplugged (2009)
CD: Red Mesa Sunset (2004)
SONG: The Spirits Of Christmas
CDs & Album Catalog - Direct Links
How To Order A "Custom Collection" Of Your Favorite Songs
Performance & Recording Bio